Click here for replacement plates
SpringAir Classic Air Cleaners
Available In 3 Finishes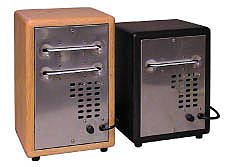 SpringAir units are totally portable. Just plug in and start to enjoy mountain-fresh air for only pennies a day!
Activated oxygen plates are removed through two slots in the back of the unit and can be washed with soap and water for easy maintenance.
Click here for SpringAir Ion Information
The SpringAir is not a filter. Instead it re-creates the same process that Mother Nature uses to keep the air fresh. It generates the negative ions that nature uses to significantly reduce the amount of dust and other particles in the air.
It also produces activated oxygen to significantly reduce odors without the use of fragrances. It helps to break down mold, mildew and other pollutants at their source.
Refresh the Air
Like the water we drink and the food we eat, the air we breathe has a great impact on our quality of life. This system can reduce sources of discomfort which contribute to allergies, hay fever and other types of airborne irritation. Removal of these irritants in the air can help reduce the risk of asthma exacerbation. Utilizing both activated oxygen and negative ions, this amazing system can significantly reduce:
• Odors from Pets, Cooking, Tobacco, Etc.
• Mold, Mildew and Pollen
• Chemical Gases and Paint Fumes
• Bacteria, Viruses and Fungi
• Dust and Smoke Particles
Control the Cleaning
The control for negative ion generation is separate from the activated oxygen control. Negative ions can be created around the clock to keep down dust and particulate. Activated oxygen is normally kept at modest levels in occupied spaces. For major odors, the unit may be adjusted to a higher level for a period of time. Some use a timer to completely deodorize the home or office while away. Unused O3 reverts back to O2 in about an hour.